sof and i are battling...she has the "never give up" thing going for her and i have the "you are my 4th kid and i will win" thing going for me.

sofia had to fight in utero...and she certainly had to put up a huge fight once she was born with her little 3lb body in the NICU. that fight has gotten her through soooo much.
that fight, is also, gonna get me sent to he funny farm. she's always been attached to me...but of late, it's been a constant need to be on me. and here's a bulletin...i have 4 kids and husband and my own stuff to get done, so sometimes it just can't happen.
1 hour. 1 hour of making dinner the other night with sofia screaming at the top of her lungs ended in her finally settling down and asking, "hold you" and "pease"...and i guess it's true that all's well that ends well, because she's learning that i'm gonna win...and i'm learning that she's really stinking cute!!!
{red nose courtesy of screaming}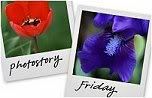 Hosted by Cecily and MamaGeek