summer break has come to an end...and school is in full swing.
one night, the girlies asked if they could eat dinner in the fort instead of at the outdoor table with us.

it was a huge hit...they loved it!

anything in a new place is kinda fun...so dinner at the fort was a total hit!!!
unfortunately, they didn't eat any better or clean up their messes better...but they did have fun!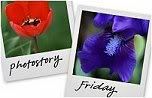 Hosted by Cecily and MamaGeek