it's season 2 of soccer for brooke...and wow, what a difference a year makes!
remember last year? she was "that kid" who screamed her lungs out on the field and cried bc it wasn't fair that everyone didn't have their own ball during the match. yep...that was fun.
this year, b is all over the place. she loves loves loves soccer and is begging for more and more practices...and that makes my heart sing. brooke's adhd is not getting in the way...and that is jsut awesome...she's running and playing and being part of a team...and to boot, she's really doing well.
she's scoring goals...not jsut for the other team, but for her team too this year!!!
and there's still time for sitting on nana's lap in the off times, but most of the time, she's wanting to be in the mix.
so, hello soccer...and have fun brooke. i'm really proud of you!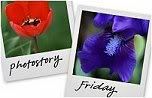 Hosted by Cecily and MamaGeek