look what we found in our back yard??? brand new baby birdies...
so this got me thinking...and i know, that's scary sometimes. these birds just sit and wait, and when they feel a movement, they open their beaks and prepare to be fed...knowing full well, that their momma will take care of them.
you all know that this life we live here is hard. there is a stupid killer, cancer, and there are kids suffering, there is hurt and pain and anger and loss. and honestly, it seems of late, there has been even a little more of it to spread around.
this life here, is also full of peace and joy and love and gentleness and strength, when we walk it with jesus. the hard times are still hard. there is still heart ache. there is still pain. but there is always hope. always love and always my god, right there with me, strengthening me, helping me and holding me even while i ask "why" and desire more things.
so i'm gently reminded of an unfailing god, who loves me beyond my imagination...
"So I tell you, don't worry about the food you need to live.
And don't worry about the clothes you need for your body.
Life is more important than food. And the body is more important than clothes.
They don't plant or harvest or save food in barns. But your heavenly Father feeds those birds.
And you know that you are worth much more than the birds." matthew 6: 25-26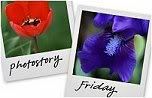 Hosted by Cecily and MamaGeek