sofia loves to stare out at the trees...we have waved to them and talked to them since she was born. in fact, when she was really upset, the tree in the front yard, mr. tree, was one of the best calmers.

so when i realized that my baby was able to get over to the window (in her 22" of height) and go see mr. backyard big tree and his mr. little tree friends, it hit me...she's really getting bigger. and, if i blink...i just might miss something.


sofia has been a miracle from the very beginning...i was infertile, did i mention that? yep. thought i had mono..but my eggo was el prego...with my little miracle sofie! there's a whole bunch of other things...but my body was not a good incubator. it was preeclamptic, diabetic, hypertensive and well, a little old.
then the poor thing was a whopping 3lbs 10 oz at birth, IUGR and a preemie...and somehow, she came out strong and fighting...and required a less than 2 week NICU stay...because she LOVED to eat. hmmmm...i wonder who she gets that from?
my sweet little princess...knows exactly what she wants, how she wants it and when she wants it. she's def like her sisters...more precious than diamonds and more costly than gold. and she is def growing up...for which i am so glad and so proud...and still a bit in awe.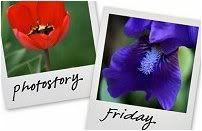 Hosted by Cecily and MamaGeek