i just wonder...what do my keys say about me?


i have some small tidbit of style...i do have a super fab cheetah house key!
i'm prepared...always have a hair band.
i love saving money...hello cvs and kroger card.
i'm def organized...store key tags are on a separate clip.
i am reminded of grace...i carry a nail to remind me that god's grace is sufficient in all things.
i drive a hoopty...old school cadillac escalade.
i have great coffee taste...oh, the keys are on a starbucks table. :)

did i miss anything?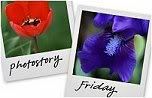 Hosted by Cecily and MamaGeek