i have been teaching paige some easy, tried and true fam recipes...white gravy, deviled eggs, fried potatoes, etc.  deviled eggs is one of her favs and she really does a fab job making them...

when the eggs come out fully cooked.
she boiled 3 eggs and when she cracked the first one, the yolk was still gooey.  i told her it was no problem, just put them in the microwave for a few seconds and the yolk would cook right up.
and when i heard this loud explosion, i knew that i left out a few details
1. crack the other two eggs
2. place a paper towel over the egg bowl
3. think
and...yes, she did clean it all up.  laughing the whole time.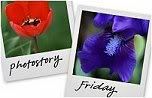 Hosted by Cecily and MamaGeek