sensory issues...anyone???
spoons with
ridges
to pull the tongue forward...smooth to not freak her out and over fill her sensory cup;
tri-chew
to get the feel of fruits, veggies and meats without the taste!
make her chew...organza and chewy bits...we love our OT, Wendy
**edited---organza because it's got tiny holes so the food doesn't get thru and choke a non-chewing kiddo--and no threads...can't reuse it, but it comes in pretty colors too!
 cheesecloth sheds strings, gets icky, and big pieces get thru...yikes
**
how many spoons does it take to feed a baby?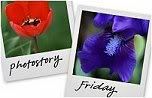 Hosted by Cecily and MamaGeek
>______________________________________________________<
adoption awareness....
there are no unwanted children, there are simply unfound families!  remember that!

adoption is NOT for everyone. but everyone can help. 
not sure of what you can do?  head over to
Cry of the Orphan
 and it will help you with some great questions and guidance.  remember, one kid only needs one person to care.
in 2005, SCC came and visited our adoption support group...i can't believe how long that's been now.  he shared their adoption story and he was truly amazing to each of the kiddos.  i wish you could have felt his passion...it was contagious.  

look at his love for the kids (he's right under the X in extreme).  amazing!
find some of that passion...do something.  please.