i know that my girlies start school every year...but for me, this year was a little different.
paige started her freshman year at the high school...and brooke started in real school as a kindergartener.
oh how life changes...i can remember when paige was born thinking 2013 was a funny number to graduate in. i also remember thinking that it would be soooo long before she got to high school.
and now she's there. i'm super happy for that...and super scared that in just 4 years she's off to college and to a world that is all her own.
and it's already started. i came to do a "1st day" shot of her...she said, "mom, i'm serious. don't." and i knew she was serious. so i asked if i could at least have a no face shot...
and i'm grateful for what i have...
then there's a totally new school beginning for brooke...she almost puked her guts out on meet the teacher night with anxiety over starting kindergarten.
on her first day, she took a rubber snake to school to "scare" the teacher with...and scare she did. good thing her teacher knows her...she thought it was super funny.
so another starting...and another 2 to go. and there's a few things i know for sure, there's some good times ahead and some harder times too, but we'll do all of them together.
...even with the dog in tow.
"so, my very dear friends, don't get thrown off course. every desirable and beneficial gift comes out of heaven. The gifts are rivers of light cascading down from the Father of Light. there is nothing deceitful in God, nothing two-faced, nothing fickle. he brought us to life using the true Word, showing us off as the crown of all his creatures."
james 1:16-18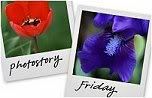 Hosted by Cecily and MamaGeek