the process...sofie style

swing legs wide to step...raise right eyebrow when thinking!

notice the knot in the wood...bend to see said knot.

fall looking at said knot...and notice, "hey...i have a sock"
decide that crawling away is faster
and yes, this is the crawl. sensory issues, anyone??
bracelets? free? hmmm....enter my giveaway
here
!!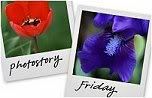 Hosted by Cecily and MamaGeek